Radon Measurement Certification
There are no requirements for radon inspection in the state of Washington. However, the state does maintain a list of certified radon professionals. The Washington Radon Program endorses Radon Measurement Professionals who are certified through the National Radon Safety Board (NRSB) or the National Radon Proficiency Program (NRPP).
The PHII Radon Measurement Course has been approved by both NRSB and NRPP for initial certification. If you are interested in expanding your business to do radon testing, you can begin by taking the PHII Radon Measurement course. When you have completed the course, you will receive information on how to register for the NEHA or NRSB exam. Both organizations require that you complete an approved course, pass their certification exam, and maintain your certification with continuing education.
Note: The NRSB has also approved PHII's Radon Measurement Course for 16 Hours of Continuing Education.
State Contact Information:
Office of Environmental Health and Safety
Phone:(360) 236-3300
Website: http://www.doh.wa.gov/ehp/rp/environmental/radon.htm#inhouse
Course Approval
Washington
The Washington Department of Licensing has approved the PHII Radon Measurement Certification Course for 16 continuing education hours. Licensed home inspectors in Washington are required to complete 24 hours of board approved continuing education for each two year license cycle. Continuing education hours can not be carried over from one licensing period to another. Course Number: 117
The 16-hour Radon Measurement Course from RadonTraining.com teaches you everything you need to know to perform radon measurements for clients as part of a real-estate transaction or for homeowners concerned about the level of radon in their home.
Public Awareness About Radon
Public awareness about radon is at an all time high due to campaigns at both the state and national levels to increase public concern about the dangers of lung cancer caused by radon. Radon is the second leading cause of lung cancer in the US.
Approved Radon Training Course
The Radon Measurement Course from RadonTraining.com has been approved by the National Radon Proficiency Program and the course has been approved by the National Radon Safety Board to meet the requirements for an approved Radon Measurement Course!
Approved by:
National Radon Proficiency Program - NRPP
National Radon Safety Board - NRSB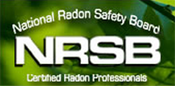 How Does the Course Work?
When you sign up for the course, you will receive an email with your username/password to login and begin taking the course online. We will also send you a CD-ROM version of the course as well as a Radon Forms CD-ROM with documents and forms to create radon measurement reports for your clients. We also offer
Radon Measurement Online Forms
which are perfect for creating Radon Measurement reports and archiving your data for easy access, storage, and retrieval!
RADON MEASUREMENT COURSE CONTENTS:
16-Hour Radon Measurement Certification Course
Course CD-ROM
Tracking via the Internet
Online Course Access
Computerized Flashcards & Testing
Certificate
Toll Free Support
FREE BONUS:
Radon Forms CD-ROM
Radon Inspection Forms
Mitigation Systems Checklist
Non-interference Radon Test Agreement.
---
Click the
add to cart
button below and proceed to the checkout to get signed up. You will be emailed a username/password to login and begin.
---